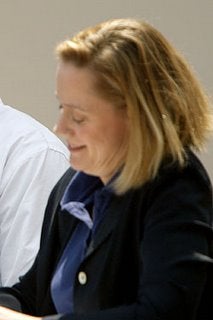 Stanley photo courtesy of Gawker
As many of you all probably know, New York Times TV critic Alessandra Stanley wrote a bizarrely racist and condescending article this week about Shonda Rhimes, who I have
praised previously
for her devotion to diversifying the television landscape with her dramas: Scandal, Grey's Anatomy, and Private Practice. In the article, Stanley calls Rhimes an "angry black woman" before proceeding to give her what is essentially a giant backhanded compliment. Stanley defended her work to Buzzfeed by saying, ""The whole point of the piece — once you read past the first 140 characters — is to praise Shonda Rhimes for pushing back so successfully on a tiresome but insidious stereotype." However, Stanley's piece centered around a racist trope, exposing more about her own outdated views than providing any type of relevant commentary about Rhimes. I will not link to the NYTimes piece, because I do not want to give them traffic, but here is a
critique from Vulture
that sums up what happened in case you missed it.
Numerous media outlets have already broken down how offensive and out of touch the article was, so I'm not going to go there. But what I want to talk about is how baffling it is that Alessandra Stanley is still employed at New York Times, a supposedly prestigious publication. After this Shonda Rhimes article, there is no doubt that its prestige is being questioned. After all, how can readers respect an entity that would publish an article based on an old racist stereotype and that keeps on payroll a writer who is referred to as "America's Wrongest Critic" by
Gawker
because of her inability to fact check. It appears that New York Times was just trolling, but did they really need to degrade themselves just for clickbait? It's annoying when people criticize publications such as TMZ for their salacious content, but TMZ does not posture like the New York Times does, nor does it tolerate factual inaccuracies.
Many may have not been aware of Stanley before the Rhimes article put her into the spotlight, but Stanley has a long history of being terrible at her job. In 2009, her appraisal of Walter Cronkite was riddled with so many glaring errors that Public Editor of the New York Times, Clark Hoyt, had to
issue an explanation
about what went wrong. Amazingly, Stanley was allowed to keep her job even though Hoyt said, "The short answer (to "how did this happen?") is that a television critic with a history of errors wrote hastily and failed to double-check her work, and editors who should have been vigilant were not."
Although Stanley is covering entertainment, it is amazing that New York Times has not fired her for her lack of professionalism as a journalist. Misspellings and mistakes happen, but her mistakes are ones that could have easily been avoided and the number of her errors are large. The blog,
NYTPicker
, which is written by journalism insiders, speculated in 2009 why the incompetent Stanley was able to keep her job,
"Hoyt also neglects to mention Stanley's longstanding close ties to the NYT's power structure, especially her membership in a close-knit group of friends that includes managing editor Jill Abramson, columnist Maureen Dowd, and book critic Michiko Kakutani. Last winter, Dowd -- whose own recent plagiarism troubles were whitewashed by Hoyt and NYT management -- wrote a travel piece about a spa vacation in Florida she took with Stanley. Do those relationships contribute to Stanley's job security? They can't hurt."
Who knows if NYTPicker's speculation is true. All I know is that I wish I could keep publicly fucking up on my job and never getting fired. Her ability to stay employed is actually quite remarkable.
Below are some of Stanley's most high-profile gaffes in chronological order:
In 2005, Stanley falsely stated that Geraldo Rivera pushed a rescue worker out of the way to get a good camera shot during Hurricane Katrina coverage.




The New York Times published in 2008 an Alessandra Stanley entertainment article that incorrectly stated the U.S. invaded Iraq in 2002, not 2003.




Alessandra Stanley's 2009 piece about Walter Cronkite had factual errors which included the wrong dates for the day Martin Luther King Jr. was killed and the day Neil Armstrong landed on the moon.
In 2012, Stanley was called out for her critique of the episode of Ann Curry's last day on NBC "Today" show. She was forced to admit that she saw the episode but didn't record it so she ended up just watching a highlight reel online.
In September 2014, readers were shocked that the racist micro-aggression passed off as an article "Wrought in Their Creator's Image: Viola Davis Plays Shonda Rhimes's Latest Tough Heroine" was not only published but based off the error that Shonda Rhimes created the TV show "How To Get Away with Murder."
Sources for this article include:
Wrong, Wrong, Wrong, Wrong, Wrong, Wrong
Alessandra Stanley's troubling history of error
- See more at: http://www.cjr.org/behind_the_news/wrong_wrong_wrong_wrong_wrong.php?page=all#sthash.pfwQVEMm.dpuf